The ARL (Co-ed Adult Rookie Hockey League) began its first Summer season May 2008 at the Wave Twin Rinks in Burlington, Ontario. The ARL is a non-contact, co-ed, social hockey league for players who want a less competitive atmosphere. We accept rookies that are just learning the game of hockey and skating as well as players that have been playing a while but enjoy the non-competitive, non-aggressive game we play.
During the summer season, the league plays Friday nights split between both ice surfaces of the Wave Twin Rinks and the Appleby Ice Centre, both located in Burlington.
For the Winter season, the league plays on Friday nights (Wave Twin Rinks, Appleby Ice Centre) and Sunday afternoons (Wave Twin Rinks).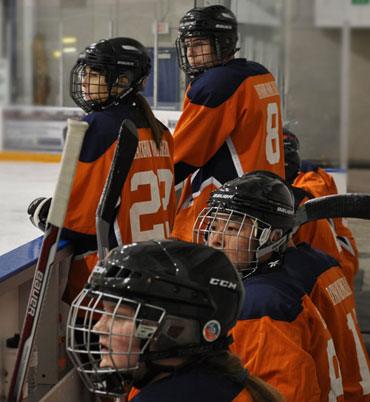 For new players, our ARL has 5 divisions based on skill levels; Divisions 1 and 2 for Rookies (levels 6+), Division 3 for Advanced Beginners (levels 3-7) and Division 4-5 for Beginners (levels 1-5). Please remember the Rookie division is still a group of Rookie hockey players with a wide variety of skill levels. Our refs are asked to protect our players and goalies by calling all aggressive plays in order to maintain the fun, social ARL-style hockey we are used to.
It's perfect for couples, friends and family that want to play together.
As part of our ongoing commitment to charity in our community, we welcome fundraising ideas from our players and hope to continue to support local charities. The ARL has made charitable donations to the following organizations to date: the Royal Canadian Legion, Sick Kids Foundation, T.E.A.D., Toronto Maple Leafs Skate for Easter Seals, Heart & Stroke – Hockey for Heart. If you have an idea or would like to volunteer to help us help others, please contact us.
---
Patricia Baranowski Began Her Hockey Career at Age 48!
Patricia Baranowski (ARL Co-Founder)
"It's amazing how things in life happen to fall into place. I lived 48 years thinking "hey…life is just a piece of cake and I'm enjoying it" …. Until one day, icing was added to my cake. HOCKEY is my icing! When I look back, I'm surprised that I ever lived without it" – excerpt from Womens' Hockey Life – Jan. 2012
---
Testimonials
From Our Players (2015 Winter)
this season i surpassed 150 games played in the ARL thanks to Scot Cameron and Pat Doherty-Baranowski for all your hard working and for giving us a great league to play in. This summer will be my 10th season.

Greg Rollins
I started playing here at 34 years old. Never played before. This league is great. 4 seasons under my belt and signed up for summer.

Chris Illes
I came to the ARL after a 20 year retirement from hockey. I had played from the time I was 6 years old until about 24 years old. Two years of men's rec. hockey left me frustrated because people didn't get it, and it was no longer fun. I never thought I would play again. Iain Russell convinced me to try it again. He told me the ARL is not like that. With my wife's encouragement I decided to throw on my 1983 Bauer Custom Supremes and make a comeback. I have enjoyed every minute of it. Pat Doherty-Baranowski and Scot Cameron do an amazing job keeping it competitive and fun and the people are fantastic. I came into the league knowing exactly one person. Now I feel like I have about a hundred relatively new friends. This league may not be for everyone but it is definitely the one for me. I couldn't ask for anything more.

Ted Lindsay
I started skating in 2013, at the age of 39, and started hockey in the summer of 2014. I met Scot at the Learn to Play Hockey sessions, and after seeing his enthusiasm for the game, and meeting other players, I signed up for the 2014 ARL Fall/Winter season. I have 20 games under my belt, and finally scored my first goal. I have a great team, with team-mates who are extremely encouraging, and are yet to complain about my inability to handle the puck, or skate fast enough.

Manu Maganti
I started playing hockey in April of 2014. I had never played hockey before, and had only skated as a kid on field trips when I was in elementary school. A friend of mine, who is not in the ARL, had been trying to get me to play for years. One Friday morning, I got to work and thought I'd research leagues in Burlington that are beginner friendly. The ARL was the first league that popped up on Google, and after spending a few minutes on the website, I knew the league was for me. The ARL means so much to me. I've met some tremendous people that I am lucky to know, and get to play the sport I love. Scot and Pat do a tremendous job running it, and I look forward to playing for many more years to come and meeting many more great people. Personally, I feel that everybody in the league, whether you are teammates or not, are willing to help you in some way. Nobody holds a grudge, and what happens on the ice stays on the ice. I'd seriously recommend this league to anybody. Beginner or experienced.

Taras Sklierenko
Took my first skating lesson about 4.5 years ago, played my first hockey game 3 months later. I had to write down the order of getting dressed for my first game and I still get confused. I like the encouraging atmosphere and social aspect of the league. My wife has also joined and loves it. Even though we're not that good and rarely touch the puck we feel a part of the team and look forward to every game. It's an awesome league and I hope to make it to 150 games one day.


Shadley Fataar
I came to Canada from South Africa,when I was 10, and loved watching hockey. My four kids all played, three of them played rep, needless to say I spent a lot of time in arenas. At age 50 I said to Alan Cluderay I would like to try to play. He loan me equipment and I tried a woman's league. But once we heard about the ARL we found our home. We are signed up for our 4th summer season. Thanks to Pat and Scot two amazing people for organizing such positive atmosphere for beginners to learn.

Lynne Forsyth
I was born and raised in Toronto, growing up a Leafs fan. My parents got divorced when I was 7 and grew up living with a single parent until my teen years. Those years my Mom or Dad could not afford to but me in organized sports so I played street hockey and from there fell in love with the game. Played ice hockey briefly in grade 8 but was unable to continue. Fast forward 20 years later, my good friend Javier Barreiro tells me about the ARL and after months finally convinces me on coming to play, I cannot thank Javier enough and week after week I enjoy playing Ice Hockey with my new found Brothers and sisters in the ARL! Raise a glass to Pat Doherty-Baranowski and Scot Cameron and the refs that keep us all safe!

Shaun Kazemi
I started playing in 2009 after George Humphries and Phillip L. Kalloo invited me to a league tournament after being away from hockey for 10 years. The tournament was great fun and I got to meet someone nice people. The following summer phill sponsored the B.M.G. Stingers and that's what team I still play for. I tried to get traded to the Jets and to Jeff Robinson team as well as a few others, but apparently I'm under performing and I have a contract that nobody wants to buy out! Please help me.lol

Roddy Mahadeo
I'll buy your contract, Roddy. This league has something others don't, a sense of community. In other Adult leagues you know your team. You play with them year after year. You drink at the bar, year after year. In the ARL you know other people you play against, or play tournaments with. Here you respect your oppenent because you know them by name, you know how many kids they have and so on. A couple of years ago; as my wife was going through cancer treatment, I asked people to donate money to the wonderful people at Trillium Hospital, and ARLers responded. This is not just a hockey league where you show up on friday; play your game with your team; and go home. This is a community. I have made numerous really good friends here, and am thankful for it. Thanks Scot and PB for all you have done. Looking forward to many seasons to come.

Jeff Topping
I love being on the ice, I love being part of a team, I love the crazy shenanigans in the dressing room. Many thanks to Pat and Scot for your hard work. 8 years later and 6 seasons with the ARL and I've loved every minute of it.

Patte Beltrame
Bought my first pair of skates at age 30 and started learning, but never really thought I'd get to play hockey. 10 years later a friend talked me into trying a beginner hockey class with him in Brampton, and I loved it… unfortunately they didn't have a real beginner league. I learned about the ARL while taking lessons to improve my skating the next year and signed up and I love the league; its a great social league, and perfect for beginners like myself. Thanks Scott and Pat for the great work!

Robert Rabey
Playing hockey was a dream of mine since I was 7. I went with my brother for his team picture and was shocked to see girls teams. I asked my Dad if girls really played, and he said yes and I could sign up the following year. Well, I was too shy and timid so I didn't sign up. It has been my one regret in life. Losing my Dad at age 61 made me realize life is short and unpredictable, so if you want to do something then do it, don't wait. When I turned 40, I decided it was time to sign up and jumped in with both skates and have loved every minute of it. I no longer have any regrets in life!

Tracy Edwards
I have 2 brothers, so hockey was not an option for my parents to afford. I started playing 5 years ago among other shinny groups with the intention of playing goalie, but couldn't afford the gear, so I played out with the hopes I could one day get a chance to try playing in net. I joined a league that wasn't the ARL in the area, but I was not good, and no players passed to me, got frustrated with me, and I basically just skated back and forth during that season of hockey. I played 1 season in the ARL and had a blast, wishing I had started in the league. I playeed in the rookie division, but now looking back I wish I had played in the beginner . I then was able to borrow some goalie gear and absolutely loved playing in net. Bought some gear and have played goalie since (probably 3 years now). This summer I'll be splitting goalie with another player on our team, so I'll be trying my hand at playing out again. I wish I had played when I was younger, but then I probably wouldn't be in this league looking forward to every weekend.

Mike Wickenden
I busted my knee (partial ACL tear) playing soccer about six years ago! Dr said no more soccer for you! What do I do for sports? I replied… Go play Hockey!!!! Soccer is not good for your health!! (Only a Canadian Doctor would say that!) since i was enrolled already at the adult skating lessons from city of mississauga I started the search for a league that would be open for rookies!!! After some research on the web found the ARL, and although it was a drive from home in mississauga i really liked the mentality of the league… Now im so looking forward to every friday night, its crazy! Dont know whats in the game of Hockey! But it is highly addictive! We have a very nice group of players at the Rogues and it is a pleasure to play with all other fellow ARLers… Looking forward to another great season this summer…

Javier Barreiro
I moved to Burlington from Edmonton just over three years ago and didn't know a soul. I had just started playing pick-up hockey with a group of friends before I moved and thought that it would be fun to continue on with it. I joined up for the summer session (played for the Medieval Times Kings) and met a great group of people that I have played the last three seasons with, and many others along the way. Looking forward to many more seasons to come.

Scott Gillespie
I've been playing in the ARL for 5 years and just completed my 11th season. This league is one of the best things to ever happen to me, and has allowed me to fulfill a lifelong dream of playing goal on ice. I've played in both the 'Beginner' and 'Rookie' Divisions, and have enjoyed all of the things each level has to offer. I've won and lost championships, won and lost shootouts, had a season in which my team lost 1 game, and a season when we only won 1 game, but always had fun doing it. I ALWAYS cheer for the goalies (even the ones I'm playing against), and always look forward to Friday night as the highlight of my week. I've played with a lot of people in this league, and gotten to know many new friends here.

Jim Sleno